Compositing Technical Director
Compositors are the magicians that bring the project together in the final stage of the film and video game project. Their job is to seamlessly integrate CG assets, matte paintings and live-action footage while under pressure of the pending deadline.
A lot of responsibility for a department in need of a lot of flexibility, spontaneous changes and fixes. Compositing Technical Directors support Compositors with workflows, bug fixes, workarounds, helpful scripts and custom gizmos.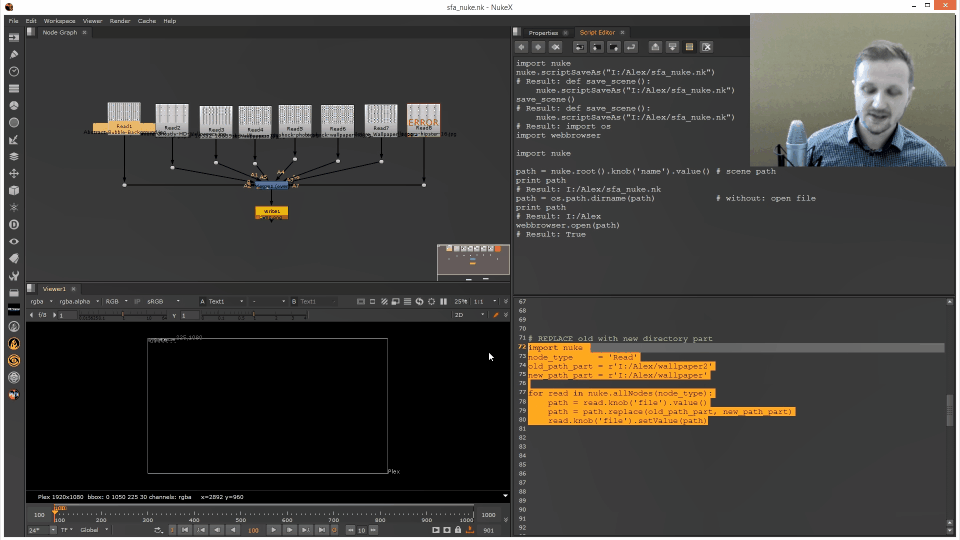 Python fixing multiple broken paths in Nuke.
1. What is a Compositing Technical Director?
A Compositing Technical Director (Comp TD) is the bridge between the compositor and developer. They combine the understanding of the artistic and the technical side and merge them together. They allow compositing artists to create compositions for films, games and installments by removing hurdles and creating technical solutions. To develop something on time and on budget, it's essential to streamline the process and that's where Compositing Technical Directors shine.
2. Software
An important part to successfully supporting the compositor is to be familiar with the DCC package that is used. At the moment the highest budget productions in Visual Effects and Animations use the compositing software Nuke. Nuke is the powerful node-based compositing tool focused on blockbusters, animation or binge-worthy episodic content. Nuke's flexible and robust toolset empowers teams to create pixel-perfect content every time. In special cases the software Fusion or After Effects is used especially in smaller productions and commercials.
Additionally it's often wise to be at least familiar with the most common 3D packages like Maya, Houdini and Katana. Since they connect the lighting with the compositing department and could be called to solve any problems bridging the two.
3. What is the Role of a Compositing Technical Director?
Your job as a Compositing Technical Director is to find technical solutions to technical problems. For that it's essential to understand the compositing side and have a variety of tools to help. A typical example is to support the compositing artist in troubleshooting: Nuke crashes or gets stuck, applications no longer open or don't do what they're supposed to do.
Another task is to find technical solutions to creative problems. For example, as a Compositing TD, you can develop template scenes with the vision of Compositing Lead which are used by the entire team. Or you comp a technical tricky scene that needs a great understanding of the technology to get the desired results.
Comp TDs make the compositing workflow easier and possible.
4. How important is Python? 🐍
Python is a great gateway, an integral part, an impactful skillset and a huge asset in any Visual Effects, Animation and Games production and Technical Director career. It allows you to create helpful and complex tools on big budget movies and games that make your and your team's workflow faster and easier.
Discover the power of Python for Nuke. Become a desirable Compositing Technical Artist or Director in 8 weeks. Learn to create valuable tools to automate processes, save time and simplify your work. A rare opportunity to unleash Python to contributions to your Visual Effects, Animation and Games career.
🎁 Benefits
The benefits of working as a Compositing Technical Director often come from the stability that technology positions provide.
🎯 Responsibility & impact: Meaningful influence on the team.
🆕 New Technology: Stay current with the latest technology and knowledge.
⏰ Time & work flexibility: Enjoy more freedom regarding your time and jobs.
🕊️ Task Freedom: Work on your own ideas and side projects to help the team.
🤝 Best of both worlds: Connect with people from multiple departments.
💵 Well paid & job security: Enjoy a stable, well-compensated career.
Conclusion
The most important part of becoming a Compositing Technical Director is to enjoy the work. You've to love problem solving, making things easier, being able to fail and to communicate your vision. Be a good compositor first and slowly transition into the new field while educating yourself in the technical and Python field. You can either learn how to push the right buttons and hope that it will be enough in the future. Or learn how to create your own buttons and understand what's behind them.
Sign up for our Free 7-Day TD Bootcamp: Technical Director to dive deeper into the role.
Thanks for reading,
Alex
I'm Alexander, an Award-Winning Technical Director & Coach in Visual Effects, Animation and Games. My skills are solving technical problems, simplifying workflows and mentoring career goals.
For more check out our exciting TD Bootcamp, 21 Artist Show Podcast and YouTube channel.